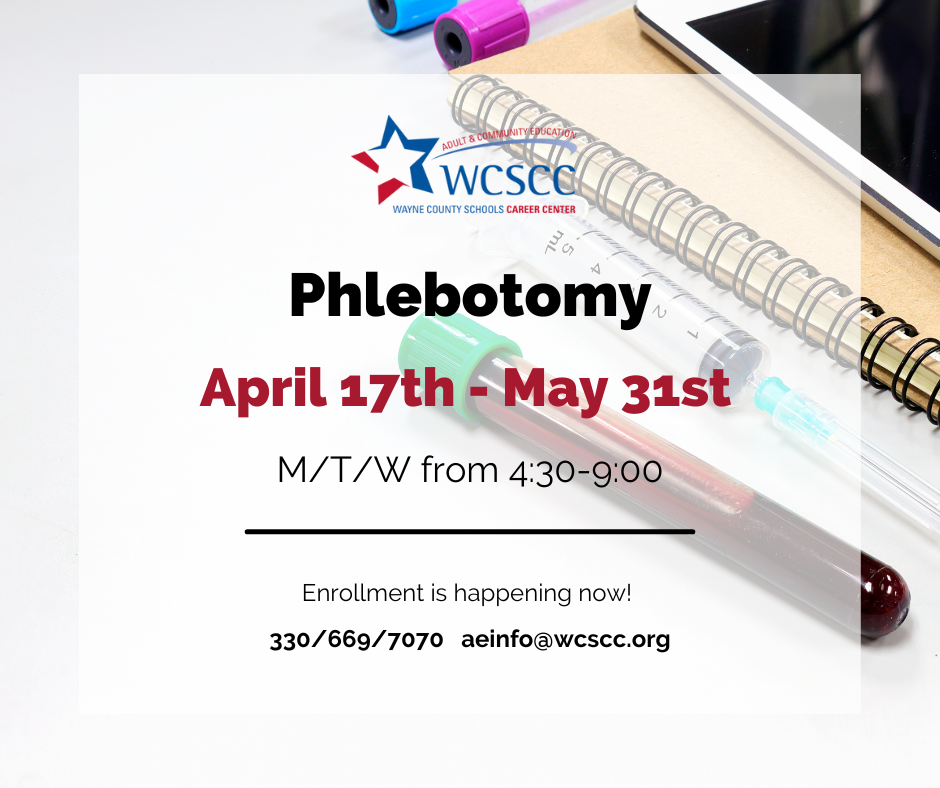 Program Description
This course will provide you with basic anatomy, physiology and medical terminology needed to prepare you to become an essential part of the healthcare team. You will learn the skills necessary to assist in the accurate, safe, and reliable collection and transportation of specimens for clinical laboratory analysis. This class will include 90 hours of Lecture/Lab  and a 30  hour  clinical externship to include the necessary venipuncture needed to allow you to sit for the National Certification Exam. Upon completion of the program,  students will take an online assessment to become a Certified Phlebotomy Technician (CPT) through National Heathcareer Association.   
Monday, Tuesday, Wednesday from 4:30-9:00

New Student Orientation, April 10, 2023 with Anna Phillips at 4:30

Class starts April 17 and will conclude on May 31, 2023
This course is designed for Adult Diploma Students to earn a credential and their high school diploma from the Ohio Department of Education.  ADP students will be earning their credential and diploma simultaneously.  
The course can be supplemented with buy-in enrollees.  If the student is not enrolling as an ADP student a high school diploma is required prior to entry.  Minimum enrollment is 4 students.
Entrance Requirements (ADP must score 14 total on Workkeys)
WorkKeys - Math: 4, Graphic Literacy: 4,  Workplace Documents: 4
Health Requirements

While not required of all students, a physical and/or background check may be required depending on externship location.

Hepatitis B, Proof of immunizations.Mantoux #1,Mantoux #2 (two step TB)
Tuition and Financial Aid
Tuition amount, $1800

Extra supply cost

$350 laptop/computer case if needed

$ 15 liability insurance

Certification Testing fee included in tuition

Special grant funding may be available however this program is not Title IV eligible 
Contact Information
330-669-7070