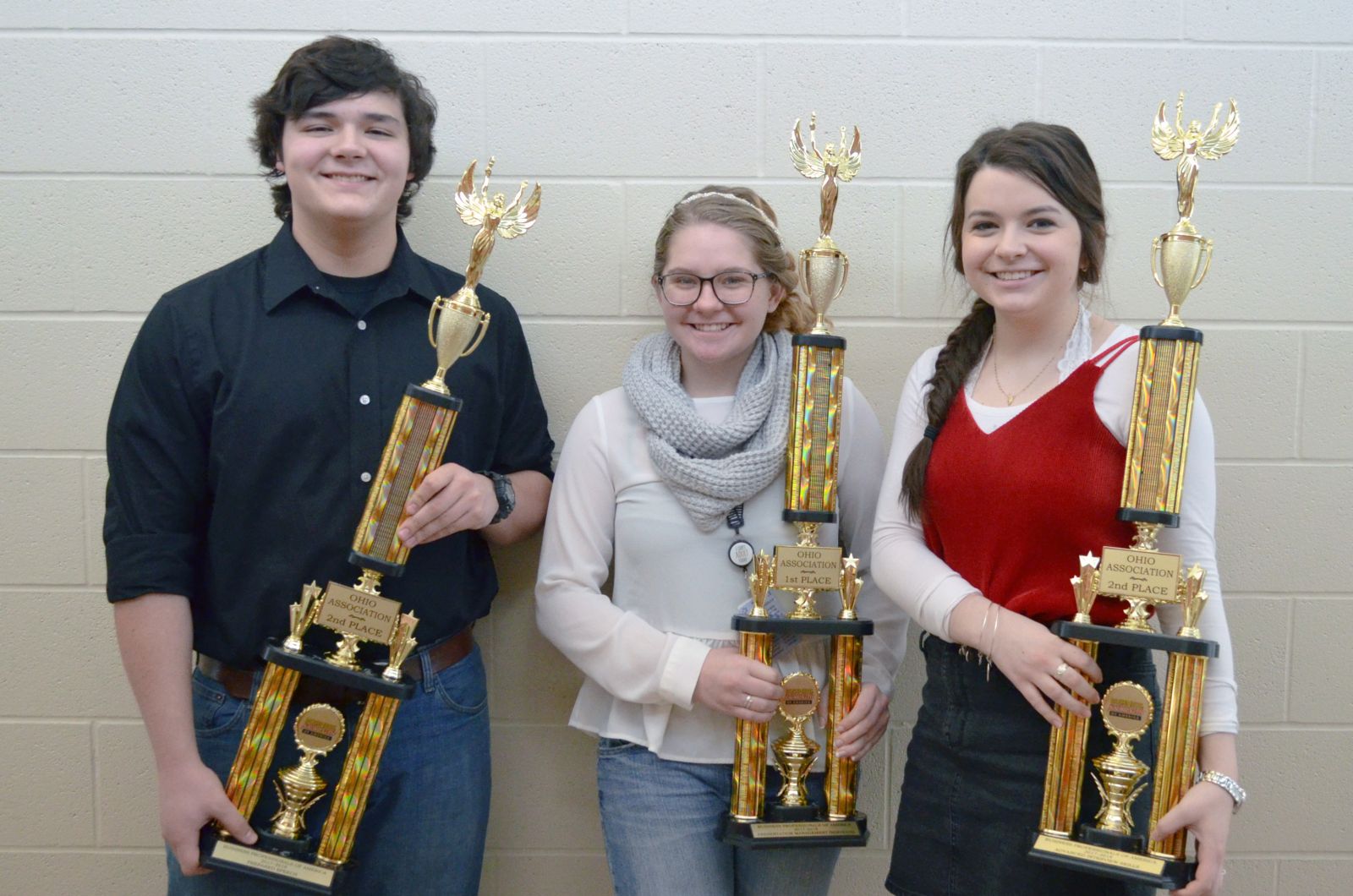 Wayne County Schools Career Center Business Professionals of America students received awards for their accomplishments this year during a BPA year-end recognition ceremony hosted at the school and sponsored by Primary Residential Mortgage, Inc.
Top junior student in Interactive Media was Carter Nagy son of Dan & Karen Nagy of Doylestown. Top senior in Interactive Media was Hailey Miller daughter of Michael and Toni Miller of Doylestown. Top senior in Business Entrepreneurship was McKenzie Taylor daughter of Dan and Amy Taylor of West Salem.
BPA president Hailey Miller welcomed the students, parents, staff and advisory committee members, Graphic Design & Photography students who newly joined BPA this year, and introduced BPA and class officers.
Supervisor Sandy Elliott thanked those in attendance for their role in the students' success. "You are building skills that are going to last you a lifetime," she said.
Adviser Jennifer Rue described some of the highlights of the year, including regional and state competition, participation in the Ohio Special Olympics plane pull which raised over $1,000 for Special Olympics, a Tire Safety Campaign for which they received a $500 grant, and collecting over two hundred dollars and an estimated 3500 pounds of donated items for animals that suffered following Hurricane Harvey in conjunction with the Animal Care and Buildings & Grounds trades. Rue also gave special thanks to Matt Shanlian and Primary Residential Mortgage, Inc. for sponsoring the awards ceremony.  
Certificates of achievement were presented to Business Entrepreneurship students Lorynn Adkins of Smithville and Zoey McKay of Chippewa. Certificates of recognition were given to Interactive Media students Cori Elrad of Triway, Christian Farlow of Dalton, Hannah Hudson of Northwestern, Michael Kruse of Wooster, John Maynard of Chippewa, Bremen Talbott of Wooster, Jonah Zuercher of Wooster, Zreston Costello of Norwayne, Mason Hatten of Rittman, Nathan Kelbly of Smithville, Dustin Piper of Wooster, Johnathan Ross of Triway, and Sarah Witten of Wooster. The students also received awards for life skills achievements, community service projects, and service on various committees.
Interactive Media students Kyle Borges Chandler, Brogan Coon, Shane Eader, and Hailey Miller received the National Ambassador Torch Award, and Hannah Dotson received the Statesman Torch Award.
            Business Entrepreneurship students were honored for participation in their regional and state competitions. Students receiving service learning awards were: Megan Hoisington of Norwayne, Mara Jansen of Norwayne, Logan Hogie of Orrville, Jakob Rafferty of Waynedale, David Brauning of Waynedale.
            Graphic Design & Photography students receiving certificates of achievement were Lauren Unland of Rittman, A'sini Williams of Orrville, and Landen Ivy of Chippewa.
            At State BPA Competition, Hailey Miller placed first in presentation management individual, Nagy placed second in prepared speech individual, and Taylor placed second in advanced interview skills individual. All three have qualified to compete at the National Business Professionals of America conference in Dallas, TX., in May. Sponsoring the students for competition are local businesses Ventrac, Rayco, Ramsier Financial Services and Nagy's Collision Centers.
A farewell slideshow created by Hailey Miller and Borges Chandler completed the program.