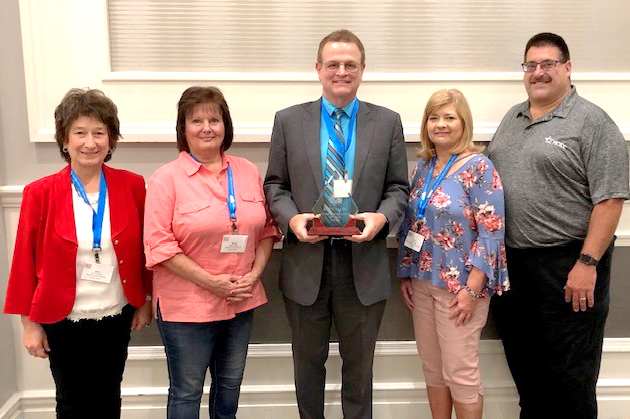 Wayne County Schools Career Center Superintendent Dr. Kip Crain was recently named Administrator of the Year by the Ohio Association of Career and Technical Education (OACTE) at their annual conference in Columbus. The purpose of this award is to recognize career-technical educators who contribute to professional associations and career-tech programs in their communities.
Dr. Crain has served as Superintendent at the Career Center for the past 15 years and has brought in many innovative and supportive programs for students at the Career Center including Drug Free Clubs of America (a voluntary club with over 67% of students joining) and Bring Your A-Game to Work (employability skills).
WCJVSEA Board Member Susie Lawson, summed up Dr. Grain's involvement by saying, "Kip Crain, Ph.D., is one of the most active, and visionary student advocates I have known in my 25 years as a board member on local, ESC, and career center boards of education."
Along with his Superintendent duties, Dr. Crain is involved in many clubs and state advisory boards, serving as the Kiwanis Advisor to Key Club and coaching speech and officer contestants in career tech student organizations.
Dr. Crain is positive, tireless, and passionate about career tech education and student success. Researching new teaching strategies and support programs, speaking engagements, visits to local businesses, visits to schools in the county, attending or organizing community events, and meetings with legislators are all things he hopes to continue to keep Wayne County Schools Career Center the school of choice for Wayne County high school juniors and seniors.