SCHOOL CLOSED MONDAY MARCH 16 - the end of the school year. Online learning continues. 
3/30/2020 -  Ohio Gov. Mike DeWine extended the closure of K-12 classrooms until at least May 1. Online instruction will continue.
3/19/2020 - The Wayne County Schools Career Center is CLOSED MONDAY MARCH 16 - FRIDAY APRIL 10
WCSCC is closed due to Governor DeWine's Executive Order closing Ohio's Pre K-12 schools effective Tuesday March 17 through Friday April 3, 2020. We will maintain our scheduled Spring Break from April 6th thru April 10th, 2020. We are currently scheduled to reopen on Monday April 13th. 
3/16/2020 - Internet Service for Students
MCTV Free Internet for Students Form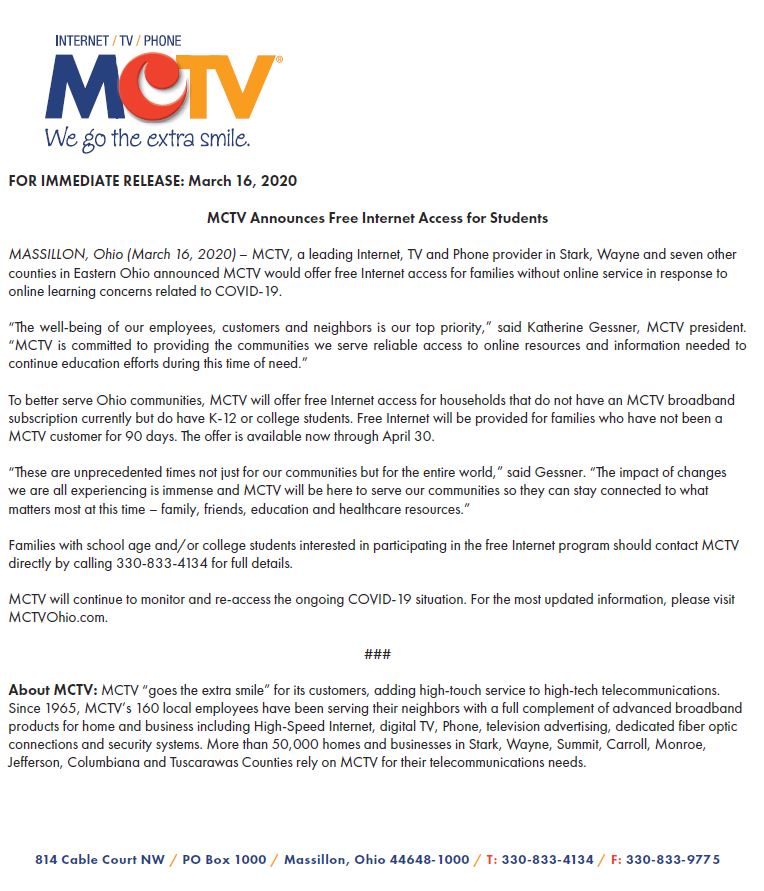 3/12/2020 - Coronavirus Update:
The Wayne County Schools Career Center is following the lead of Governor Mike DeWine's proactive approach to keeping our state safe during the ongoing spread of coronavirus (COVID-19).  Based on his announcement Thursday afternoon, the following will be implemented immediately: 
Friday, March 13th will be a regular school day for students and all staff. 

Please make sure your son/daughter attends school on Friday (tomorrow) to meet with instructors, pick up their laptops which will be needed for on-line learning and all their other personal belongings.

School will not be conducted in person Monday, March 16th through Friday, April 3rd. 

Monday, March 16th all staff will report for a professional development day.

Students who were absent Friday should come to the Main Office between 8:00 a.m.-3:00 p.m. on Monday, March 16th to pick up their laptops and personal belongings from their lockers.

All other activities including Prom and field trips are cancelled during this time period.

The status of Spring Break will be determined and announced at a later date.
There will be limited staffing at the Career Center starting on Tuesday, March 16th, so please watch for updates via our website, www.wcscc.org.
Matt Brown, Principal
Lynn Moomaw, Director of Operations
Tracy Hackworth BSN, RN, LSN, School Nurse
OTHER HELPFUL INFORMATION
Coronavirus Parent Letter 3-11-20
Preparation and Prevention for Parents