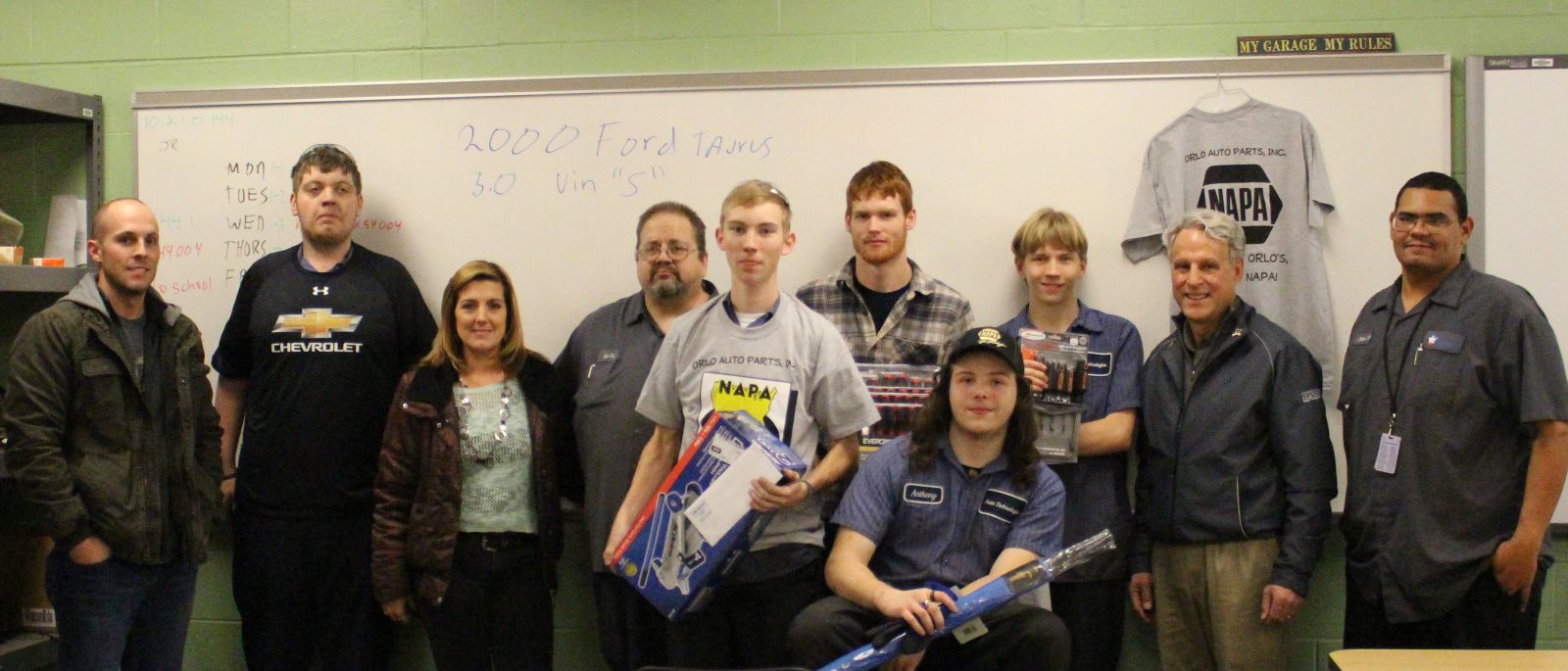 Motivating students in the classroom can be tough. Helping students realize the hard work and planning it takes to make it in the adult world can be even tougher. The Automotive Technologies class at the Wayne County Schools Career Center has found a way to motivate students and at the same time, experience what it is like to get paid for the work they do and then use that money to reinvest in themselves and their career.
Automotive Technologies teaching assistant Kevin Fields, along with high school instructor Rich Shetler, turned to their business partners to help with the student auction project. Business Partners of the Career Center help provide places of employment for students, advice on equipment and curriculum, information about the trade, and other learning opportunities to name a few things.
The project works like this: students earn fake money for the hours they put in during lab time at school. Business partners donate items such as tools, supplies, and logo items to be auctioned. At the end of each nine-weeks, students have the opportunity to bid on the donated items to help build their personal tool supply and get some really cool automotive-related items.
"The benefit is they can use the stuff they buy," said Fields. "Tools can go home with them or they can use them here if they'd like. There is an end result that is worthwhile for them. I have even heard guys offer to loan other students money if they are a little short."
Fields and Shetler would like to thank business partners who contributed to the auction: Cody Sinclair from ORLO NAPA, Tonya Zeitler from Serpentini Chevrolet, Steven Crisafulli from College Hills Honda, Doug Rusher from Advanced Auto Parts Wooster, Dale Wolf Chevrolet of Wooster, and Dustin Stark from O'Reilly Auto Parts Orrville.
Photo: Wayne County Schools Career Center Students David Geig and Anthony Carpenter-Geer (front) display items donated to be bought by students in the Automotive Technologies class auction. Other students, business partners, and instructors participating were: (back row L to R) Cody Sinclair, Cordell Hicks, Tonya Zeitler, Rich Shetler, Dylan Shaw, Wesley Wilkin, Steven Crisafulli, and Kevin Fields Jr.