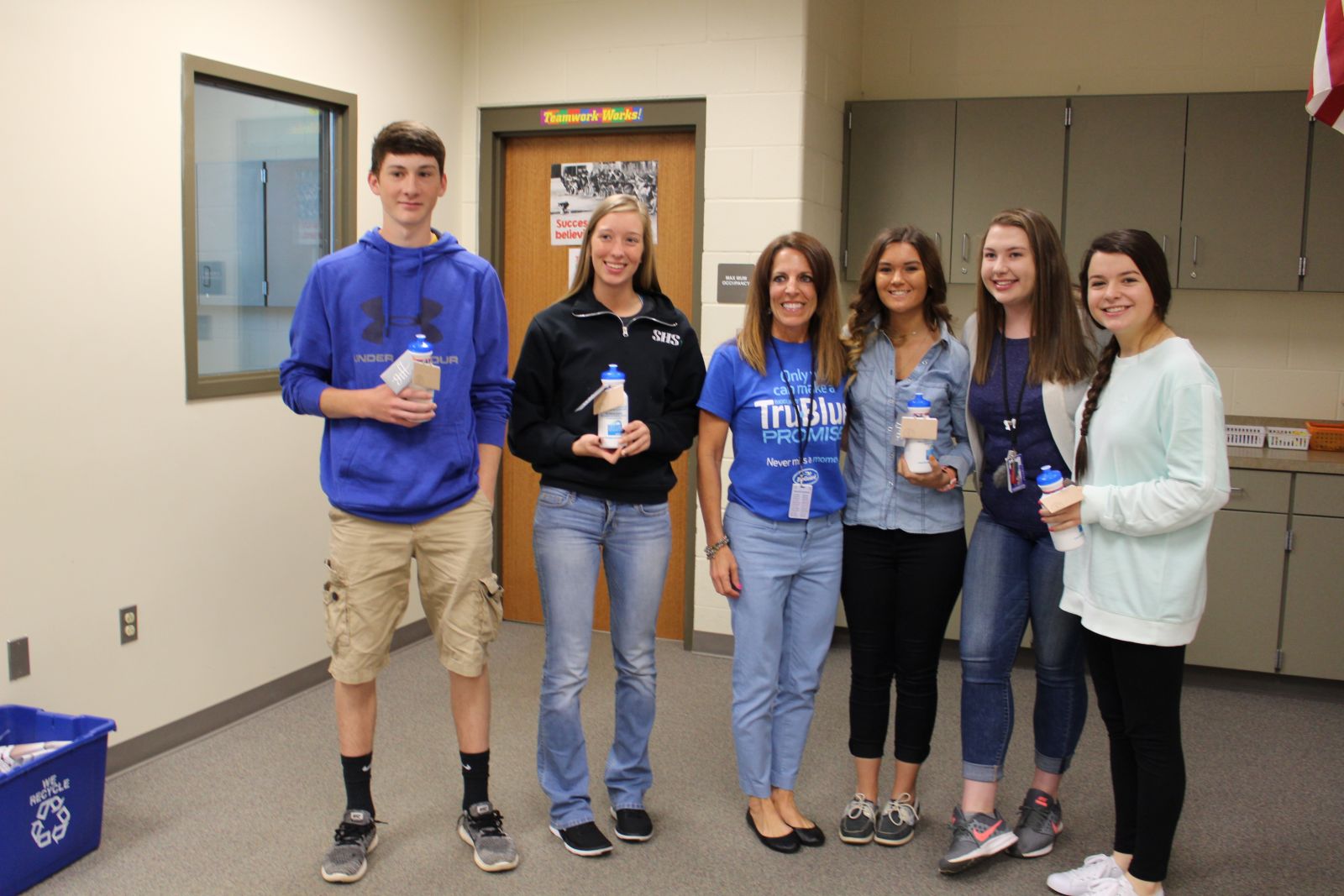 Kendra of Smithville won first place in the business plan contest in Business Entrepreneurship at the Wayne County Schools Career Center. She is congratulated by Becky Macar of Family Pools and Spas, who donated the awards for the contest.
Business Entrepreneurship students from Orrville, Rittman, Smithville, Waynedale and the Wayne County Schools Career Center met together at the Career Center to hear Becky Macar of Family Pools and Spas of Wooster talk about family businesses. Some of the students also competed with their business plans, and were awarded prizes and recognition. Later in the day, they toured Schaeffler/LuK in Wooster, stopped in at The Barn Restaurant to have lunch and speak with owner Mark Dravenstott, and toured the new RAMTEC addition at the Career Center.
Winning first place in the business plan contest was Kendra of Smithville, who wrote a plan to create a dry erase textbook. Second place went to Clay of Waynedale, who developed a fishing lure that could change depths. Third place went to the team of McKenzie and Megan, both of Norwayne, and Eliana of Chippewa, who planned to make sweat stain stoppers. Each of the winners received a water bottle from Family Pools and Spas, filled with candy, and a gift card from Chipotle. The rest of the participants also got a water bottle filled with candy and a gift card to Oh-Yo Frozen Yogurt. Instructors Kelly Miller and Julie Keener, with help from Triway business teacher Ella Boothby and her students, helped determine the winners.
The students used a business plan format previously created by Believe in Ohio, which is no longer funded.
Macar spoke to the students about Family Pools and Spas, which has been in business for 42 years in the Ashland and Wooster areas. Family businesses create 64 percent of the U.S. gross national income, Macar told the students. Seventy three percent of employees work for a family business, the largest being Wal-Mart.
Family Pools and Spas was started in Macar's parents' home, who are still the business owners. Her father, Ken Uhler, was an excavator, and her mother, Pam Uhler, was an x-ray technician. They needed a liner for Pam's mother's pool, and had to go to the Norwalk area to purchase it. The store manager there asked if they would like to buy out the Ashland/Wooster area as a business, and Pam Uhler agreed. They started a pool store in the corner of their home garage, and their phone was the store phone. Macar and her sister and brother started working for the family business as children, then the store moved to Ashland, then expanded to Wooster.
            "The entire family works in the business," said Macar. "It makes for a really interesting Thanksgiving meal."
            Business is changing rapidly, and Macar said in the next five years, there will be a tremendous shift in the way people buy things. Right now, many people are using "Alexa" to ask about the weather, but soon, they will be able to put items on their shopping lists that can be delivered straight to their front doors. Very few people watch commercials any more, so they hired a service to do all their advertising and marketing on social media. Because they buy small quantities of supplies, unlike big box stores who buy in bulk, and there is tremendous markup by all the distributors they have to use, they have to sell their premium customer service.
            "I have to be the expert," Macar said. She knows her customers, their pools or spas, and what they need. Amazon may be able to sell items, but they don't tell you how to apply it, she said.  "Relationship building keeps our customers coming back."
Macar knows her customers right down to the names of their dogs. "I support local business, I keep the money local, and I donate locally. It helps keep family businesses alive."
She keeps stools at the Wooster store for those who want to just come in and chat. "They said they feel better when they leave, just talking to us," Macar said.
            Seventy percent of family businesses want to pass their businesses on to the next generation, but only 30 percent make it to do that. Even less, only five percent, make it to the third generation.
            To be successful, she said, business owners need passion. "Don't build a job, you have to build a life. Find your passion." Her mother's passion was that everyone learns how to swim, and they make memories in their own backyards.
            "If you don't have passion, why bother?" she asked the students. "Play hard, and work hard. I love what I do. I'm where I'm supposed to be."
            One student asked what they do in the winter, when pools are not being used in this area. "We sell hot tubs, too," she replied. They only get about four percent of their sales in January and February, but work very hard then in the summer.
            Two of Miller's students have already begun a business, The Pit Performance Club LLC. It's a gym owned and operated by junior Riley Smucker and senior Jason Newlan, both of Smithville High School. It caters to individuals with all levels of fitness goals. A workout crew meets there at 5 a.m. "to get a good workout in all before the sun comes up," said Smucker. The students started with a desire to lift weights together, and now the business exists to impact and inspire people to achieve their goals.
            "We plan to grow this business while we continue our high school and college education," said Newlan. "When the alarm goes off at 3:30 a.m., we are up and ready to fight for our dreams." The business is located at 1916 Millborne Road, Orrville, and is open from 4 a.m.-9 p.m. For more information, go to pitperformanceclub on Instagram.
            The Business Entrepreneurship program has identical distance learning labs housed at five different Wayne County Schools: Orrville, Rittman, Smithville, Waynedale, and the Career Center. Students from the other six county public high schools, Wooster, Triway, Northwestern, Norwayne, Chippewa, and Dalton, can take their business training at the Career Center.
Business teachers Kelly Miller and Julie Keener rotate between schools, while students in those schools can always interact with their instructors in person or on screen. It is part of the Young Entrepreneurs Consortium, funded by a Straight A Grant. The college-level classes in partnership with Stark State are demanding, but students receive both college and high school credit for their work. Students completing the two-year program at the Career Center need only six classes toward their associate degree in business, Miller said.  This number can be lowered if a student completes other academic classes through Stark State College. There are still openings for the 2017-18 school year. Students or parents should talk to their school counselors about the program, go to www.wcscc.org, or call the Career Center at 330-669-7020, for more information.