Team picture with awards, including teachers: from left, Lesa Krites, Destiny, Kayla, Austin , Kyle , Maria , Instructor Andrew Arko.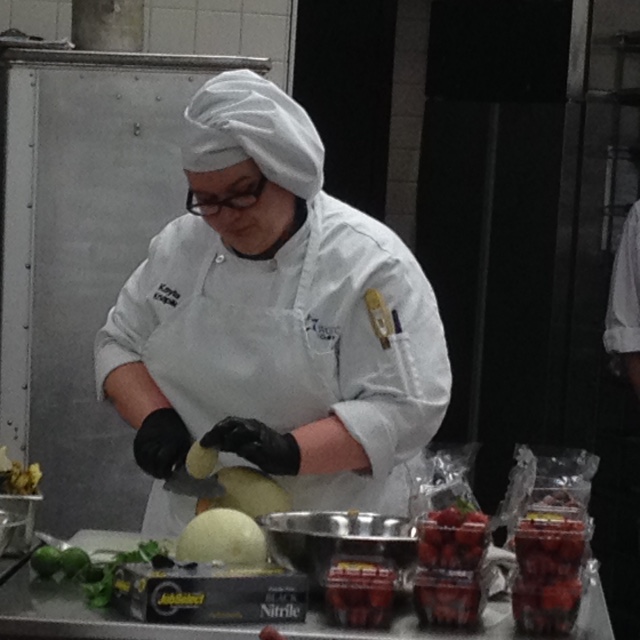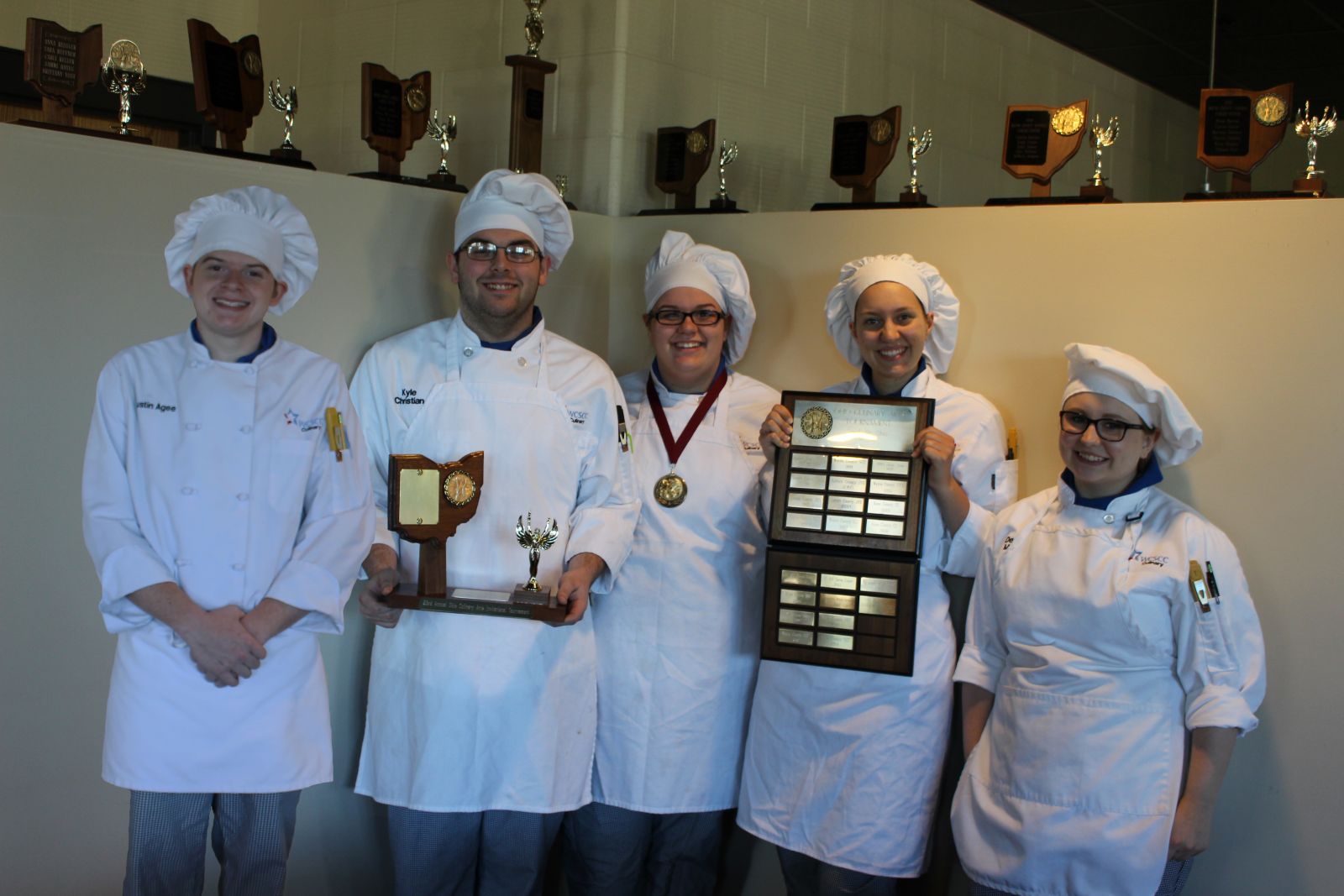 Kayla prepares food at the Ohio Culinary Arts Invitational Tournament in Parma.
The Wayne County Schools Career Center Culinary Arts team won first place at the twenty-third annual Ohio Culinary Arts Invitational Tournament last week at Normandy High School in Parma. Although the team drove north to attend the contest, they competed in the South of the Border Mexican Fiesta.
The team of Kayla and Kyle, both of Wooster; Maria, Destiny, and Austin, all of Triway, received the highest scores, gold medals and scholarships. Second place went to the team from Normandy High School; and at third place was Branch Areas Career Center of Coldwater Michigan. Ashland-West Holmes Career Center placed fourth. Other teams competing were from Penta Career Center in Perrysburg, and Greater Johnston Career & Tech Center of Johnstown, Penn.
Winning first place individual was Kayla, who received five gold medals and $58,000 in scholarships from Sullivan University. She also competed on the Pro-Am team. Eighth place individual went to Maria, with two gold medals and $26,000 in scholarships; tenth place to Austin, with two golds and $16,000 in scholarships. Also placing were Destiny with one gold and one silver medal and $16,000 in scholarships; and Kyle, with one gold and one bronze medal and $22,000 in scholarships.
This year's menu included stuffed jalapenos, avocado salad with tomatoes, limes and toasted cumin vinaigrette; pan de maiz y camote (sweet potato corn bread), pollo preparado (prepared chicken); arroz rojo (red rice); calabacitas guisada (stewed zucchini), tarta de fresa (strawberry shortcake), and a beverage of their choice. Recipes were provided for all of the required dishes except the chicken and beverage.
During the high school competition, the students were on teams with students from the other schools. The students had two hours to prepare and serve the meal, complete with cleanup.
Sponsors were the Ohio Beef Council of Cleveland, Sirna & Sons Produce of Ravenna, Wilsons Tree Service of North Ridgeville, Red Lobster of Parma, the J.M. Smucker Company of Orrville, Sysco of Cleveland, and Gordon Food Service of Grand Rapids, Mich.
The tournament was coordinated by retired culinary arts instructor Bob Bercaw. Current culinary arts instructors for Wayne County are Andrew Arko and teaching assistant Lesa Krites.