Scholarship winner Kara, center, and honors diploma recipients Jaycie, left, Michaela, Carissa, and Rachel celebrate their completion of the Practical Nursing Program at the Career Center.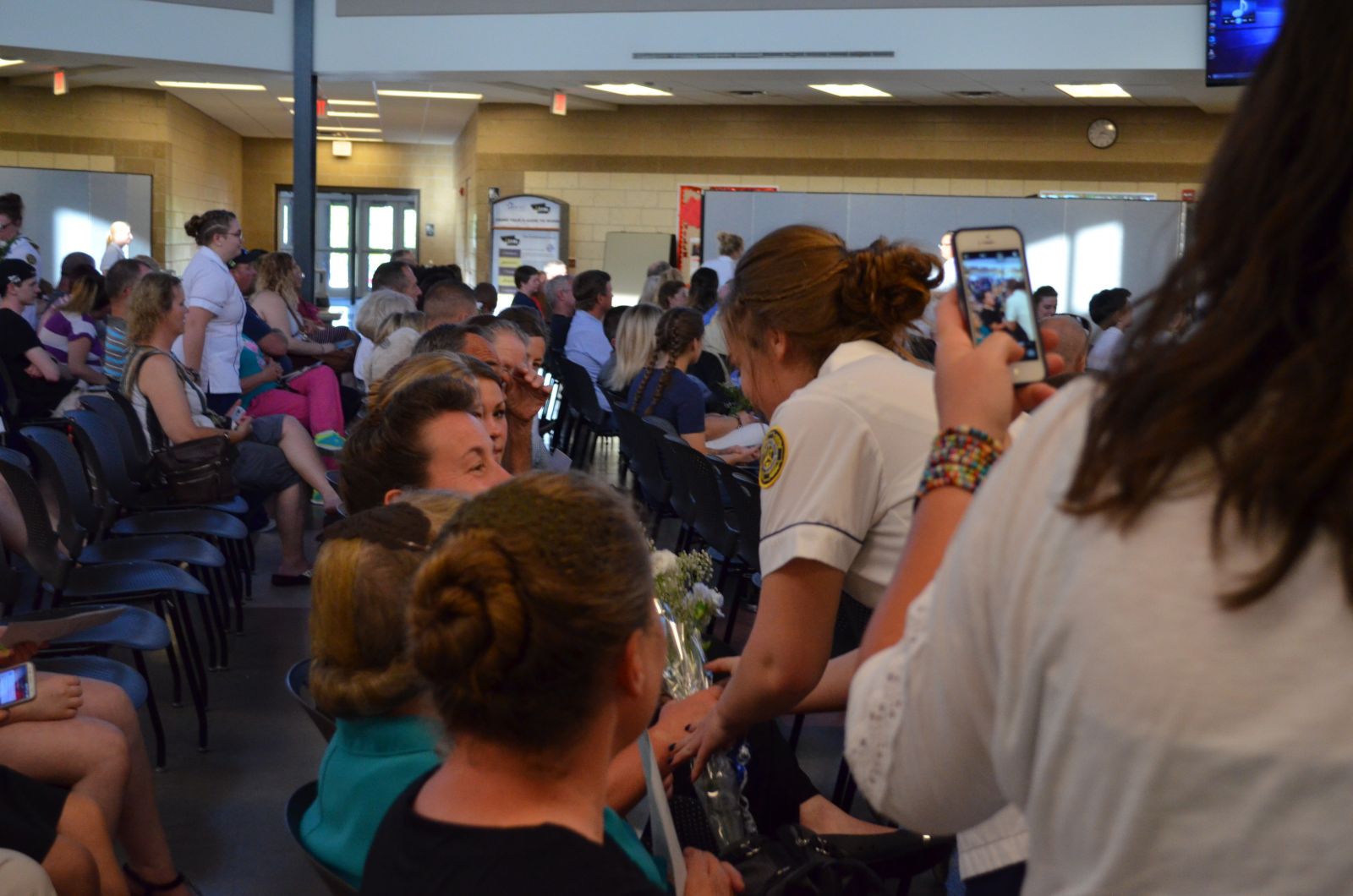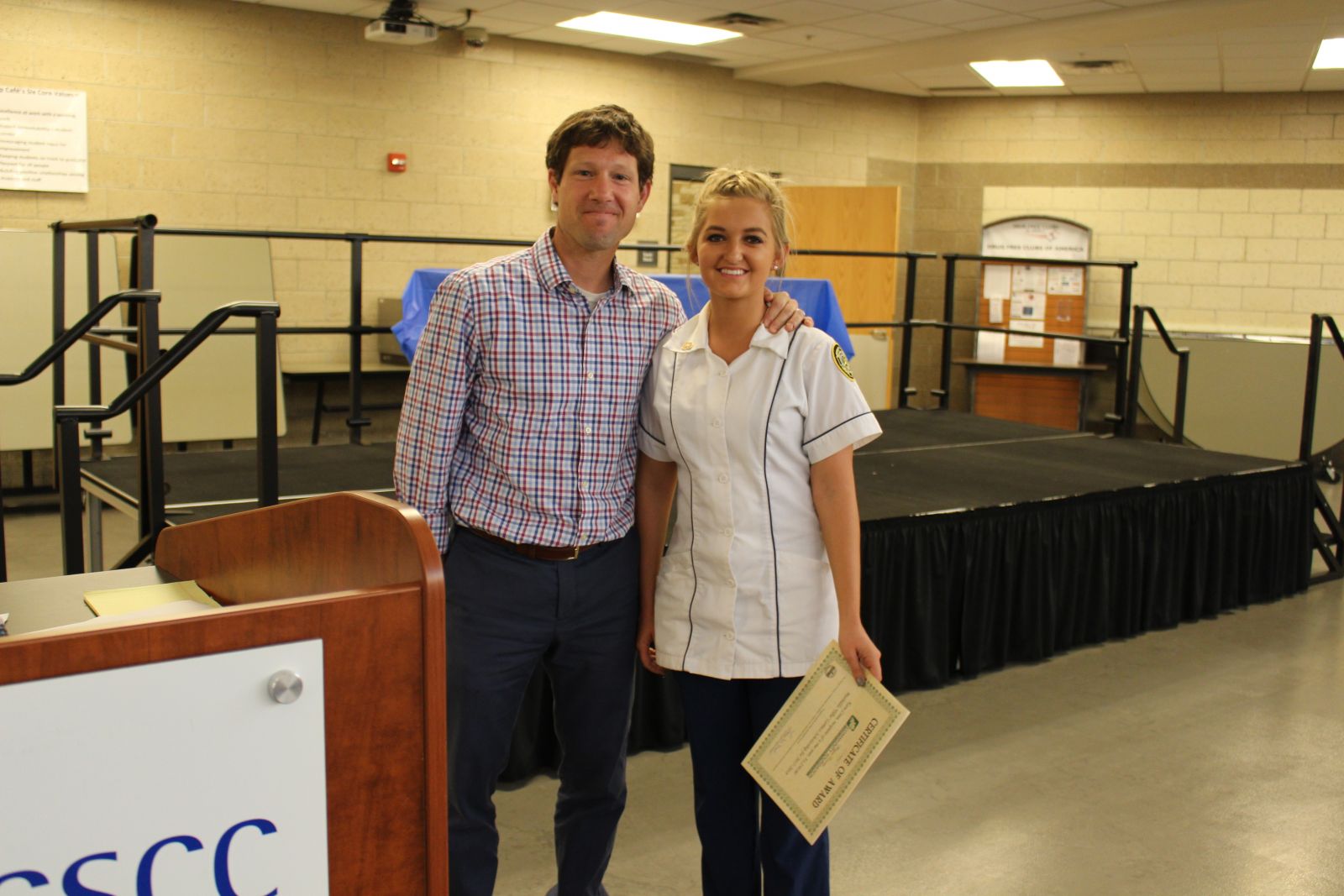 Jaycie presents flowers to one of her supporters at the Career Center Practical Nursing ceremony.
Kara of Hillsdale receives the "Tillie" Lorincz Scholarship from Nursing Supervisor Andrew Cerniglia.
 In a candlelit ceremony, 14 seniors were recognized for completing the high school Practical Nursing program at Wayne County Schools Career Center. Proud family and friends looked on as the students processed in carrying lamps signifying Florence Nightingale's history of helping wounded soldiers at night by lamplight.
On behalf of the Matilda "Tillie" Lorincz Family and the Wayne County Community Foundation, program supervisor Andrew Cerniglia announced Kara of Hillsdale as the recipient of the Tillie Lorincz Scholarship to help her further her education in the field. This scholarship is awarded to a graduating high school senior of the LPN class at the Career Center who is enrolled in college as a full-time student studying to become a Registered Nurse.
Four seniors will receive honors diplomas upon graduation from their high schools: Carissa and Jaycie, both of Norwayne, Michaela of Chippewa, and Rachel of Triway.
Myers greeted her classmates with a quote from Albert Einstein who said, "Education is what remains after one has forgotten what one learned in school." Reflecting on the education they've received, memories they've made, and hours of work they've put in, Rachel quoted Woody Allen who said, "Eighty percent of success is showing up." She then addressed the juniors in the program with her own words of wisdom, "You may hear a voice in your head saying, 'You can't do this.' Don't listen to that voice."
Class president Savannah of Norwayne thanked her classmates, families, and staff for "always reaching out to help us" and for "making a small part of my world better." This is important to have because "as nurses, every day at work makes lives better."
"On the way here, I had planned to speak about hope," said senior instructor Jackie Shrock, "but I decided to focus on what I know. What I really know is that (the students) have hearts full of caring for other people and that's important in the field of nursing."
Superintendent Kip Crain noted that the commitment of the students to the rigorous, college-level program "means you have to give up a few other things that other high school students get to do. You've set the bar high for those who will follow you."
Junior instructor Pamela Vorkapich announced names while Practical Nursing Coordinator Joan Kanne and Shrock presented pins and certificates.
Other seniors recognized were Jordan Gilbert of Smithville, Meghan of Norwayne, Alexis, Benjamin, and Jaecob, all of Northwestern; Jennifer and Madison, both of Triway; and Justin of Chippewa.
Junior students received pins from the seniors in recognition of completing their first year. They were Mackenzie, Savannah, and Kaylea, all of Chippewa; Charles of Triway, Brianna of Norwayne, Danielle, Hannah, and Mikayla, all of Waynedale; Jacqueline, and Adam, both of Orrville.