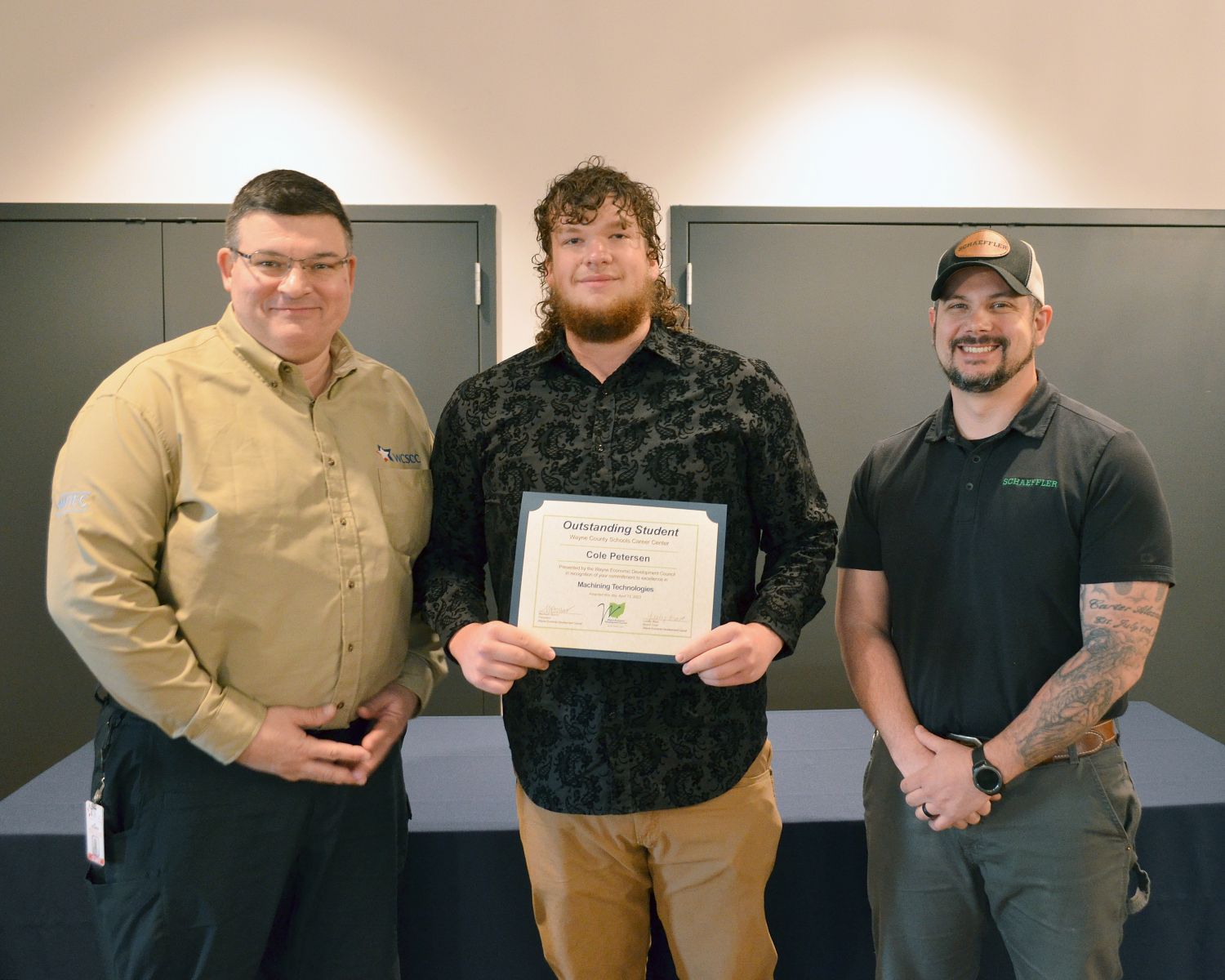 Top seniors from 24 of the career-technical programs at the Wayne County Schools Career Center were honored at the Wayne Economic Development Council Best in Workforce Senior Breakfast held at White Oak Event Center in Orrville.
            WEDC President Maribeth Burns welcomed the Career Center staff, students, and representatives from area businesses that employ those students. She then introduced guest speaker Diane Jarrett, Director of Special Projects for Jarrett Companies, Inc.
            Jarrett, a graduate of the Career Center's Practical Nursing program, spoke about the five best lessons she's learned from influential people in her life.
"Never let 'em see you sweat," Jarrett said, sharing the first lesson learned during her first clinical assignment at the Career Center. "You need to square up your shoulders, stand tall, put your chin up, and face the challenge head-on."
Passing on wisdom gleaned from working, family relationships, and building and operating businesses, Jarrett continued, "Always be willing to hear the other side of the argument. It will make you a better coworker, family member, friend, and leader."
            Students receiving certificates of recognition were:
AgriBusiness & Livestock Production, Adam DeMassimo of Norwayne; Ag Mechanics/Power Technologies, Josiah Gasser of Heritage Private; Animal Science, Grace Cobb of Chippewa; Automotive Technologies, Christian Garrett of Waynedale; Buildings & Grounds, Dawson Wills of Wooster, Business, Izaak Phillips of Dalton; Construction Technologies, Kayden Wertz of Smithville; Cosmetology, Kara Rieman of Waynedale; Criminal Justice, Madyson Followay of Wooster; Culinary Arts, Hannah Sattelmaier of Norwayne; Dental Assisting, Emily Hurt of Triway.
Diesel Technologies, Zane Klatt of Chippewa; Early Childhood Education & Care, Jayla Webb of Chippewa; Engineering Technologies, Nathan Miller- Homeschooled; Graphic Design & Photography, Bryce Haven of Smithville; Hospitality, Anna Morris of Triway; Industrial Electronics, Mark Kaufman of Marlington; Interactive Media, Seth Bowers of Orrville; Medical Assisting, Baylor Pellshaw of Northwestern.
Machining Technologies, Cole Peterson of Norwayne; Patient Care Technologies, Riley Flinner of Wooster; Powerline Technologies, Andrew Navratil of Smithville; Welding Technologies, Luke Griffin of Orrville.