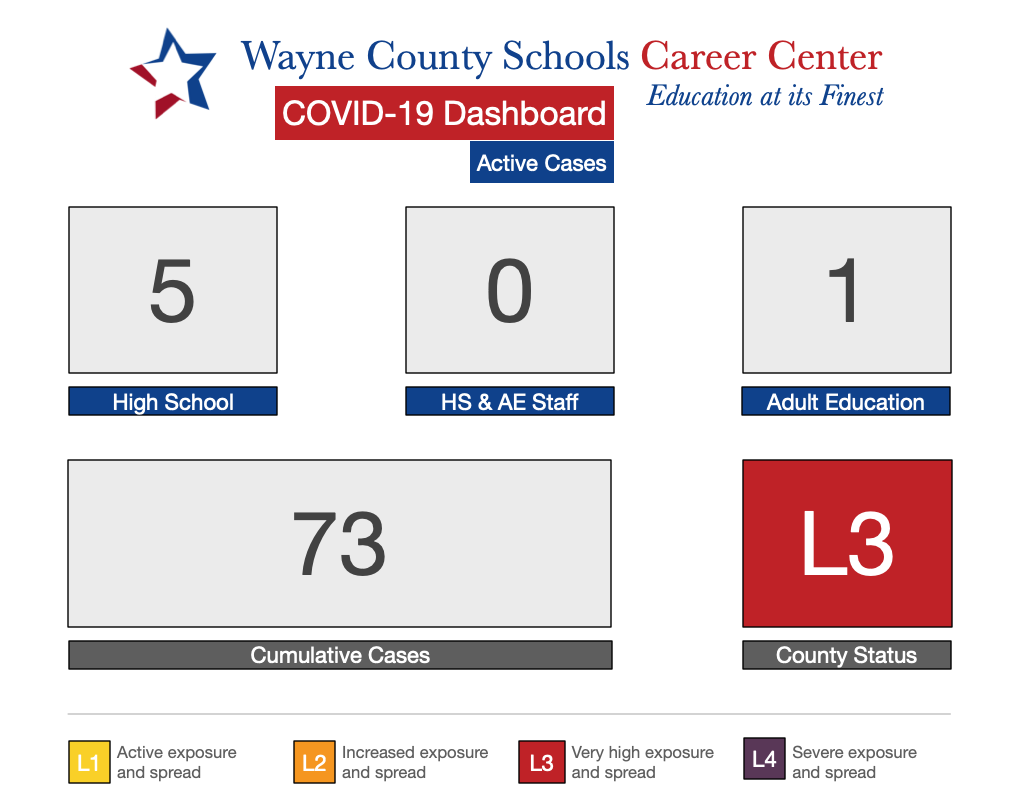 Updated: October 22, 2021
WCSCC SAFETY PROTOCOLS
Effective 9.20.2021
All lab activities must follow WCSCC protocols in addition to meeting industry standards.
Staff and student temperatures taken before leaving home and may be required at school.
Students and staff stay home with 100°+ temperature.
Students and staff stay home with two or more Covid related symptoms, per CDC guidelines.
Revised teacher schedule (7:30-2:30).
Bus drop offs (one at a time), no congregating – social distancing.
Students go to 1st period class upon arrival.
Face coverings (fabric covering mouth and nose, school appropriate) are required for all staff, students, and visitors.
Face coverings are required for all bus and van trips.
Hand washing throughout the day.
Hand sanitizer throughout Career Center.
Classrooms, labs and all other common areas – minimum of 3' social distancing between students.
Outside activities - maintain social distancing.
Seating charts in all classes, STAR Periods and lunches.
Breakfast and Lunches – social distancing, facing forward, and staying seated throughout.
Disinfect Commons/restrooms/ classrooms/labs/common areas/offices            (every day after school, with the 360 cleaner as needed).
Directional arrows in hallway for traffic flow.
Delayed releases at end of day by home school.
HVAC – full outdoor air circulation.
All protocols of Governor and County Health Department.
Positive case of Covid-19 = persons will be contacted by Health Department or nurse (the school is not permitted to release identifying information).
WCSCC will work to decrease the likelihood of infection through additional hygiene, cleaning, and safety procedures. However, please understand being in a public place has a certain level of risk that cannot be eliminated.