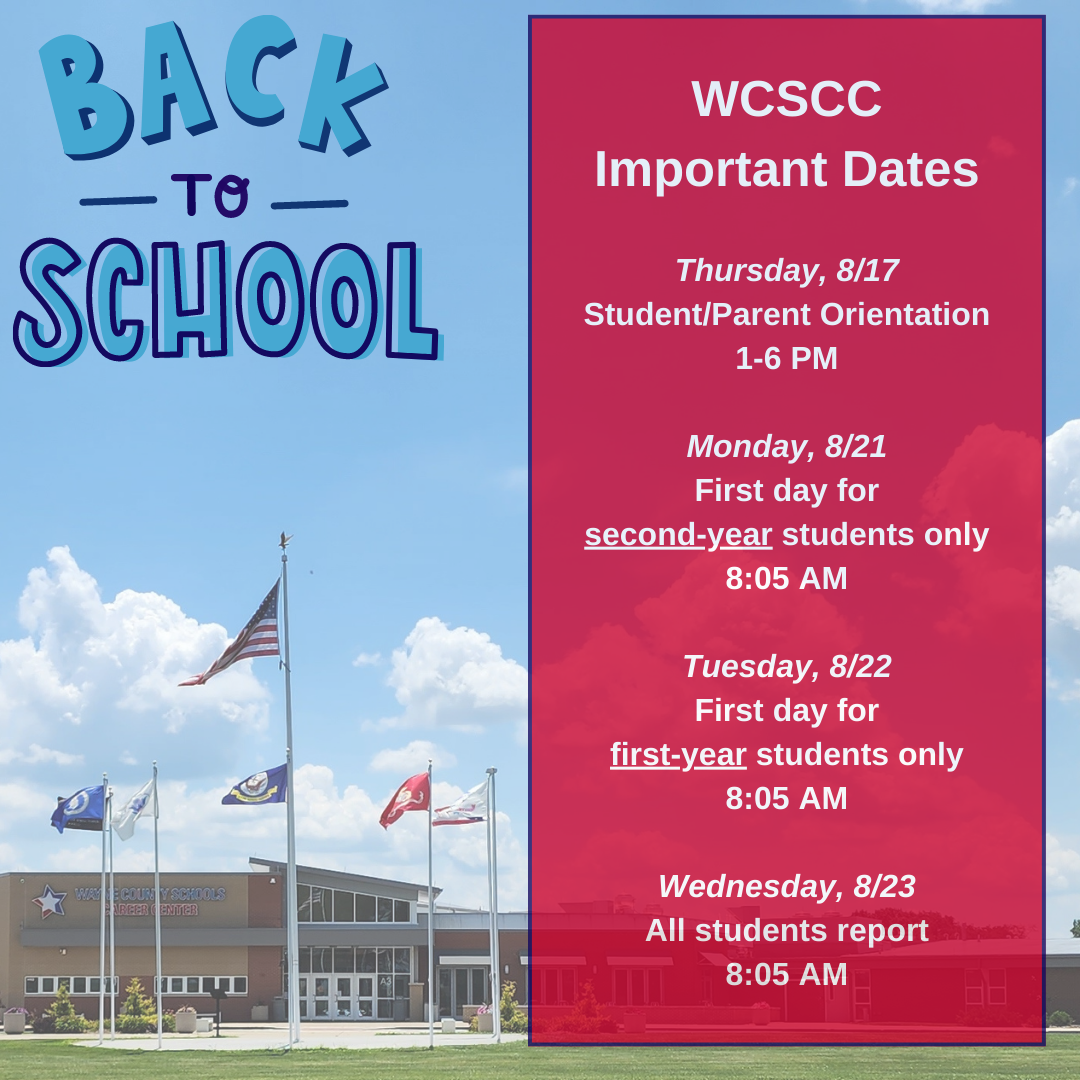 Wayne County Schools Career Center Student/Parent Orientation will be Thursday, August 17, 2023, from 1-6:00 PM. All students and their parents are encouraged to attend and may come anytime during those hours. Engineering Technologies students should first report to the Career Center and may then visit the Engineering Technologies lab at Orrville High School from 1-6 PM.
Parking will be in the student parking lot, on the east side of the building between B and C wings. Handicapped parking only is available at the front of the building.
The students and their parents will enter the Commons area to get their school schedule and map which will direct them to visit each station. Students will be photographed for their identification cards, so should wear appropriate school clothing. They will complete Final Forms information (assistance available); learn more about a new Telehealth option, view videos regarding Job Placement, Drivers Education, and an overview of the coming year from Principal Matt Brown; apply for fee waivers; visit their career-technology labs, and more.
Students and parents should refer to the information packets that were mailed to their homes this summer. Those who have completed some of these tasks online ahead of time will be able to skip those stops.
Guidance counselors will be in room A-122 for assistance with scheduling and to answer questions. Special education coordinators will also be available.
The first day for second-year students only is Monday, August 21 at 8:05 AM. The first day for first-year students only is Tuesday, August 22 at 8:05 AM. All students will report on Wednesday, August 23 at 8:05 AM.
For more information, visit our website at www.wcscc.org or call the Career Center guidance office at 330-669-7020. The Career Center is located at 518 West Prospect Street in Smithville.